Price: $1599
Warning! This scooter is similar to a high end sports bike. In comparison to our other models this scooter's throttle is very sensitive and will accelerate extremely fast. The 1500watt brushless is built to go fast. If you prefer a lower performance scooter please see our 1000 and 1300 watt models.
After years in development, we are proud to unleash the fastest and most powerful compact electric scooter made today; the Super Lithium 1500 Brushless electric scooter. This is the first and currently the only Servo style brushless electric scooter that includes a high output 60a 48v 20ah LifePo4 Lithium battery!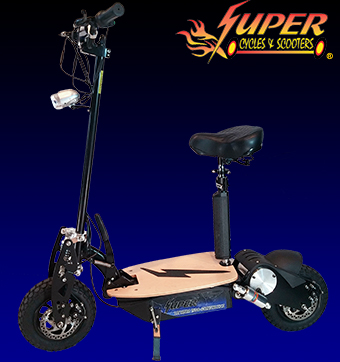 About the Super Lithium 1500 Brushless Electric Scooter:
This is not a child's scooter! The Super Lithium 1500 Brushless scooter boasts speeds of 35-40mph, distance per charge of 25-35 miles, and 3x the torque of our 1000-lithium; it can easily be called the Lamborghini of electric scooters.
What is the difference between a brushed and brushless electric motor? The basic difference is: brushless motors are a more advance technology that produce double the power, run cooler, are more efficient, and longer lasting. For a more detailed difference simply Google "Brushed vs Brushless Motors".
With a hill kit installed, it is capable of doing standing wheelies and makes it the best hill climbing scooter currently on the market. It is the only scooter that uses huge 12″ tall and 4″ inches wide tubeless tires.
An 11″ inch wide wooden deck and horn are also included with this scooter. It is equipped with a high output 48v 20ah LifePo4 Lithium battery; it's 80% larger and has double the output of the battery we use in our 1000-lithium. If you want the Super Car of Electric scooters you want the Super Lithium 1500 Brushless.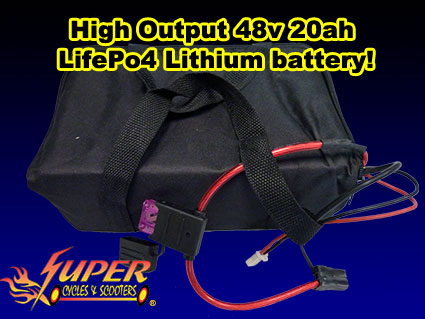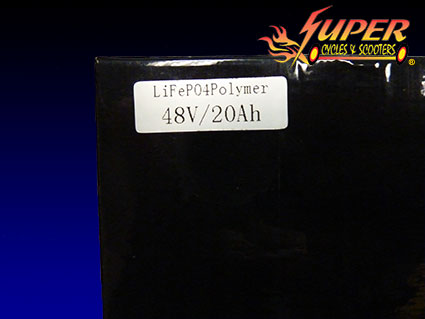 About the high output 60A 48v 20ah LifePo4 Battery:
The Super Lithium 1500 Brushless uses a 60a High Output 48v 20ah LifeP04 battery pack. This battery formulation was developed at the University of Texas in 1996 by John Goodenough's research group and is the most advance rechargeable battery available for electric scooters today. They are non-toxic to the environment, stable, and have the greatest charge density to weight ratio of any battery available. At only 18lbs this battery weighs ¼ of what an equivalent SLA battery and has a life expectancy of 1000 charge cycles compared to 250-350 of the average SLA battery. It also charges 1.5x faster than an equivalent SLA battery. We decided to use a 60a 48v 20ah high output configuration to maximize our 1500watt brushless censored motor pushing it to a maximum speed of 40mph. This battery alone retails for $750. LifePo4 batteries will outlast the average SLA battery's life span by 3times. In other words, you would end up replacing a SLA battery three times within one life span of a LifePo4 lithium battery. LifePo4 lithium batteries are the safest lithium formulation and unlike Lipo batteries they will not combust or catch fire. Simply put; LifePo4 batteries are the wave of the future in electric scooter technology.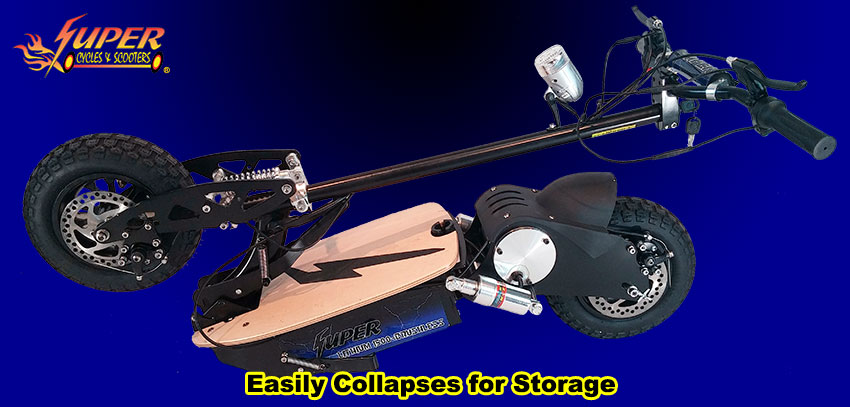 Why buy from Super Cycles & Scooters?
We realize there are many similar looking scooters on the market. So why buy ours and why buy from us? The difference is we install the highest quality parts on our scooters and each one is inspected and tested before being shipped. We have been in the business of selling electric scooters for over 12 years. Our customer service goes above and beyond to make sure you are happy with your purchase. You have our word; you will not find more powerful or higher quality electric scooters. Do your research! We have nothing but positive reviews found on several websites including Amazon.com, YouTube, and many others. We also have an A+ BBB (Better Business Bureau) rating.
We would like all potential customers to keep in mind the follow: Electric scooters are machines and machines need maintenance and sometimes repair. Therefore, we have developed exclusive "How to Videos" on our website; such as: "How to change a tube in your tire if you get a flat", "How to adjust your chain", "How to properly maintain your scooter" along with many more. Our videos are only accessible to our customers via a password that is given with the scooter's manual.
Available Accessories Sold Separately
More Accessories than any other electric scooter company!
We have more accessories and upgrades available to our scooters than any other company! We currently offer the following: mirrors, brake light/tail light kit, hill climbing kit, wooden deck, splash guards, large storage bag(included on 1000w and 1500w models), fast charger(for 800 only), 36v 20ah high capacity lithium battery upgrade (for 800 only) and an external charging port (used as an adapter to charge the battery outside the scooter if needed) All scooters have a charge port built into the side of the scooter for easy charging.
Add accessories to your order by clicking on the accessory page or link. Any accessory that is added to cart and purchased at the same time that you purchase a scooter will automatically be installed free. Please note: all of our scooters come with everything you need including a standard charger. The only exception is the hill kit, which is a necessary upgrade if you have any hills.
Please click on "details" to find more information on any accessory you are interested in. Accessories are optional upgrades to your scooter. Everything that you see in the pictures with the scooters is already installed and included with it.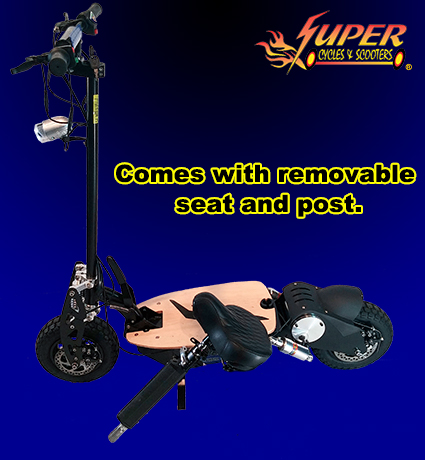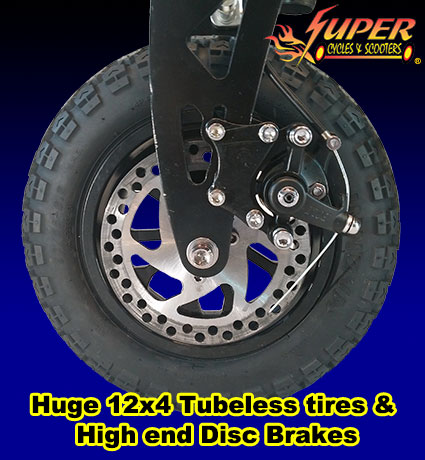 Scooter Specs and Details
Recommend Ages: 18+ (Adult only scooter, also see Liability Policy)
MOTOR: Super Brushless 1500watt DC 48v (The only servo brushless motor for the ultimate high performance experience)
SPEED: 35-40 mph (depends on rider's weight & terrain)
RANGE: 25-35 miles per charge; (Range depends on rider's weight, speed they are driving, and terrain) Special note= Hills and Heavy Rider Weight will greatly reduce RANGE.
BATTERY: 48v 20ah LifePo4 Lithium 60a high output (Most advance battery available.)
BATTERY CHARGE CYCLES: (up to) 1000 Charge cycles
BATTERY RECHARGE TIME: 8-10 Hours
CHARGE SYSTEM: 110v input 48v output Smart Charger 2-color LED status indicator (Charger is Included)
SUSPENSION: Innovative front mono shock and dual rear shocks.
HEAD LIGHT: Low power but very bright LED Head Light (Included)
CONTROLLER: 100a input/output sensored brushless controller
DRIVE: Heavy Duty Chain Drive
BRAKES: Disc / Caliper (Front & Rear) Also features motor assisted braking.
WHEELS: Tubeless Alum 6.5 inch Mag Rim
TIRES: Tubeless 110/50-6.5
HANDLEBARS: Billet Stem – 20″ Race Bars
FOLDING: Yes-locking
DECK: 11″ Wide Wooden Deck with lightning S logo
FRAME: High-tensile Steel
NET WEIGHT in Box: 95lbs
NET WEIGHT out of Box: 89lbs
NET WEIGHT with batteries removed: 70lbs
MAX RIDER WEIGHT: 300lbs on flat ground with stock gearing. 400lbs on flat ground with hill kit installed. Reduce weight by 50% when hills are involved.
COLORS: Black
PACKING SIZE: 13″ W X 19″ H X 46″ L
Scooter Measurements:
42″ Tall when unfolded
17″ Tall when folded
48″ long and 12″ wide when folded or unfolded
Shortest Seat Height: 30″ Measured from the ground up.
Highest Seat Height: 36″ Measured from the ground up.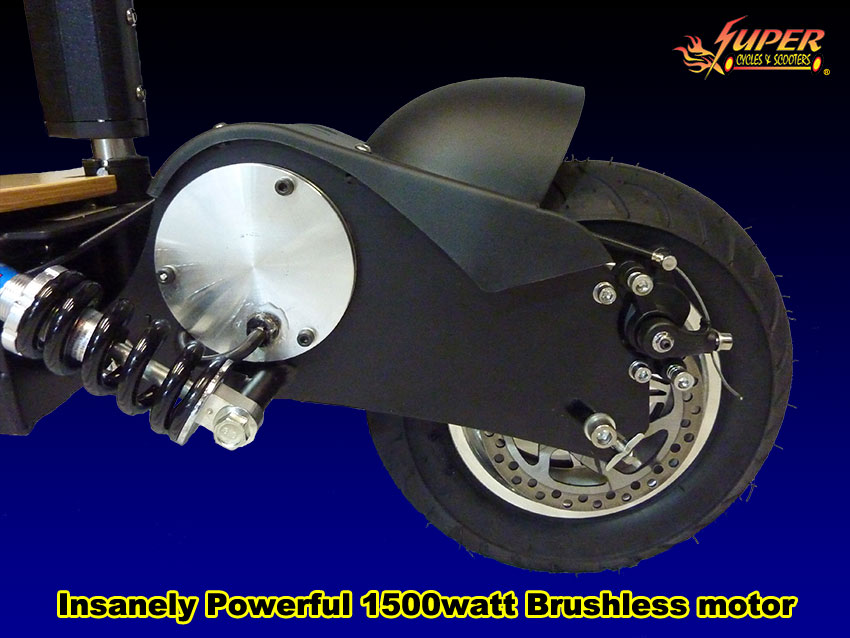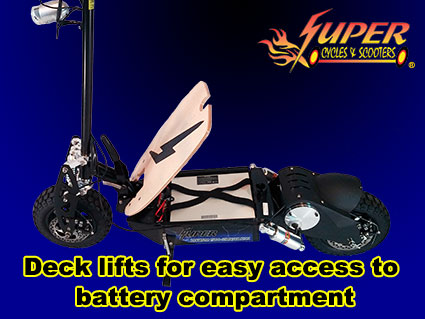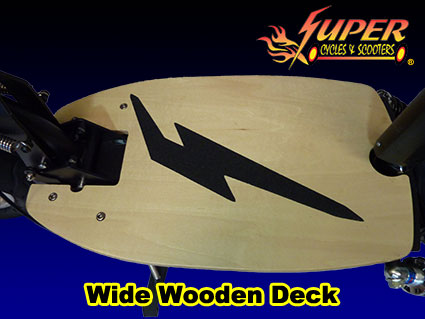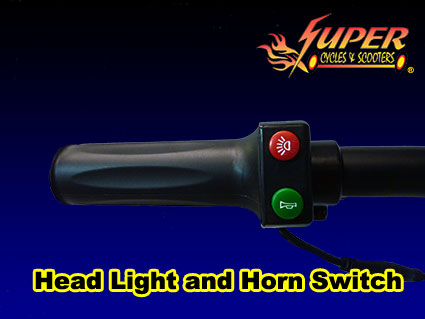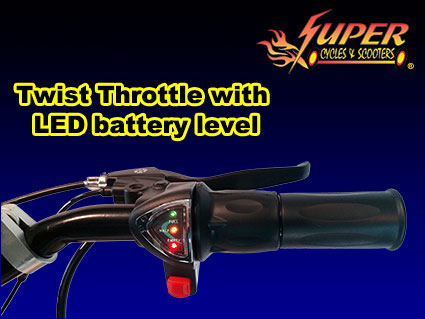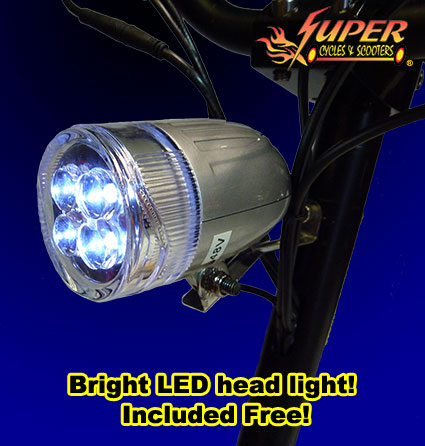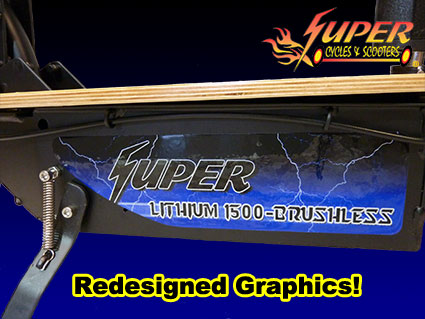 Shipping Details
We inspect and test every scooter and improve its packaging before it ships out. Scooters must go through this process before being shipped for quality assurance. Once an order has been placed it usually takes no longer than 2 businesses to QC and ship your scooter. However, depending on the volume of orders we receive at the same time, your order may be delayed up to an additional five business days. You will receive a tracking number via: email once your order has been processed. This does not mean that your order has been shipped. Scooter orders go through our quality control process first and then are picked up by FedEx. Once your order has been picked up by FedEx, shipping time usually takes between 2-6 business days depending on what state you live in. East coast customers are usually 2-3 business days and West Coast is usually 4-6 business days.
Shipping is FREE with your purchase! Shipping is FREE with your purchase! However we only ship to the United 48 states free of charge. Alaska and Hawaii customers please call us for shipping details and charges.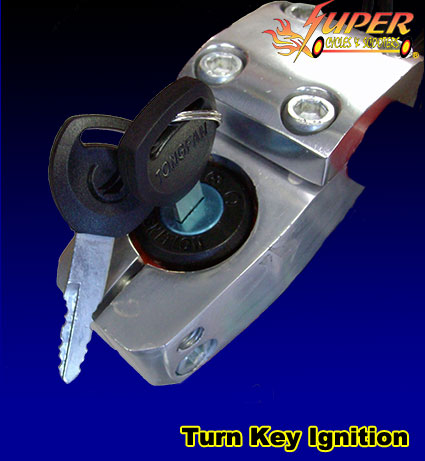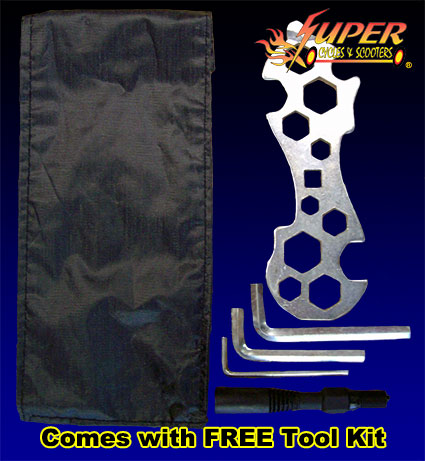 FOR ANY QUESTIONS PLEASE EMAIL US AT
supercycles@hotmail.com
OR CALL US AT 843-997-7902