$1099.00
The Super lithium 1300-brushless is the second fastest production compact electric scooter made today, only second to our Super Lithium 1500 Brushless! We kept the same successful design of our 1000 watt scooter and simply replaced the motor, electronics, sprockets, chain, and most importantly the battery. With a speed range of 22-28 mph and ride distances of 10-21 miles per charge, it is easily one of the highest performing electric scooters on the market.
Why buy the Super Lithium 1300 Brushless over competing so called 1000watt and 1200watt brushed scooters?
You may find many other scooters being sold on the market today that look similar and claim to be using a 1000watt or 1200watt motor. When in truth, they are still using an 800watt or 1000 motor with a very high gear ratio. Using a high gear ratio will result in very low torque and will only be capable of high speeds when an extremely light weight rider of 120lbs or less is riding it. It will also result in a very hot running motor that will burn out quickly. How can you tell if a scooter is using a true 1000watt motor? It's simple: a true 1000watt motor measures 6 inches long compared to an 800watt motor measuring at 5 ¼ inches long. If a motor is higher than 1000watts it will measure longer than 6 inches. Currently no factory makes a brushed motor higher than 1000watts. Another important fact is our 1300watt motor is rated for and uses a 48v lithium battery. Higher voltage and lithium battery equates to higher RPMs, therefore our 1300watt brushless motor will be more powerful and faster compared to any system that uses a 36v lead acid battery.
We have tested this scooter using a 36v battery and the performance was disappointing. It only gained a 2-3mph speed increase compared to our 1000watt scooter. When equipped with a powerful 48 LifePo4 lithium battery; we were able to unleash the full potential of this scooter.
This scooter includes a six month warranty compared to competing companies only giving 90days or less. So don't be fooled by competitors claiming to be selling a 1000watt or 1200watt scooter. Call them and ask how long their motor measures and if they will guarantee the speed and performance they claim.
Why go Brushless?
Brushless motors are more efficient and use less electricity resulting in longer ride times and longer distance per charge.
They are more compact and are capable of running at much higher RPMs resulting in more power and top speed.
There are no brushes, Brushes are simply copper metal rods that are pushed against the inner wall of the motor to make electric contact in order to get the motor to turn. Since brushless motors are missing just that "brushes" they create less heat and normally have a longer life span.
Brushless motors also have far less resistance. This means the scooter is easier to push and will coast much further when after the throttle is released.
The only downside to brushless is it is a newer and more expensive technology.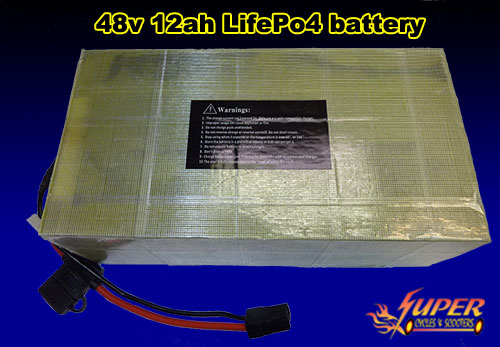 About the 48v LifePo4 Lithium battery.
The Super Lithium 1300-Brushless uses a 48v 12ah LifeP04 battery pack. This battery formulation was developed at the University of Texas in 1996 by John Goodenough's research group and is the most advance rechargeable battery available for electric scooters today. They are non-toxic to the environment, stable, and have the greatest charge density to weight ratio of any battery available. At only 11lbs this battery weighs ¼ of what an equivalent SLA battery and has a life expectancy of up to 1000 charge cycles when properly charged compared to 250-350 of the average SLA battery. It also charges 1.5x's faster than an equivalent SLA battery.
We decided to use a 48v 12ah LifePo4 lithium battery to maximize the true 1300watt brushless motor pushing it to a maximum speed of 28 mph. This battery alone retails for $500. LifePo4 batteries will outlast the average SLA battery's life span by 3times. In other words, you would end up replacing a SLA battery three times within one life span of a LifePo4 lithium battery. LifePo4 lithium batteries are the safest lithium formulation and unlike Lipo batteries they will not combust or catch fire. Simply put; LifePo4 batteries are the wave of the future in electric scooter technology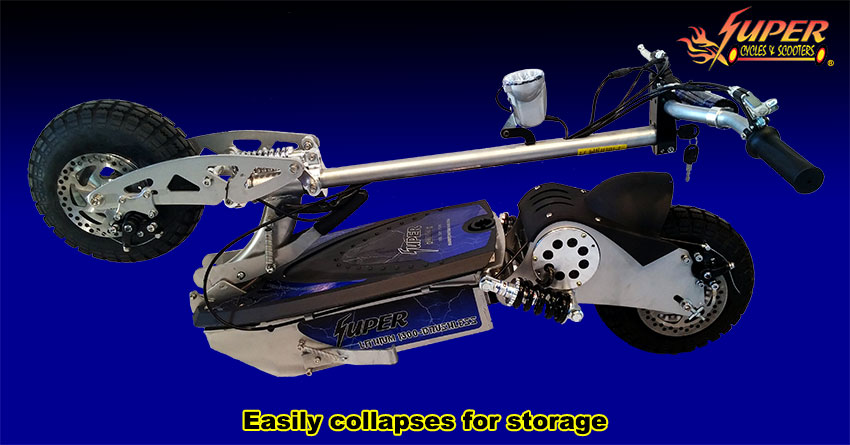 Why buy from Super Cycles & Scooters?
We realize there are many similar looking scooters and E-Bikes on the market. So why buy ours and why buy from us? The difference is we install the highest quality parts on our Scooters / E-Bikes and each one is inspected and tested to make sure it's in working order before being shipped. We have been in the business since 2003. Our customer service goes above and beyond to make sure you are happy with your purchase. You have our word; you will not find more powerful or higher quality E-Bikes / electric scooters. Do your research! We have thousands of positive reviews found on several websites including Amazon.com, YouTube, and many others. We also have an A+ BBB (Better Business Bureau) rating.
We would like all potential customers to keep in mind the following about our electric scooters / E-bikes: They are machines and machines need maintenance and sometimes repair. Therefore, we have developed exclusive "How to Videos" on our website; such as: "How to change a tube in your tire if you get a flat", "How to adjust your chain", "How to properly maintain your scooter" along with many more. Our videos are only accessible to our customers via a password that is given with the scooter's manual.
Rollover each scooter color to see enlarged view
Now Available in Three Colors: Black, Blue and Silver
Available Accessories Sold Separately
More Accessories than any other electric scooter company!
We have more accessories and upgrades available to our scooters than any other company! We currently offer the following: mirrors, brake light/tail light kit, hill climbing kit, wooden deck, splash guards, large storage bag(included on 1300w and 1500w models), fast charger(for 1000-elite only), 36v 20ah high capacity lithium battery upgrade (for 1000-elite only) and an external charging port (used as an adapter to charge the battery outside the scooter if needed) All scooters have a charge port built into the side of the scooter for easy charging.
Add accessories to your order by clicking on the accessory page or link. Any accessory that is added to cart and purchased at the same time that you purchase a scooter will automatically be installed free. Please note: all of our scooters come with everything you need including a standard charger. The only exception is the hill kit which is a necessary upgrade if you have any hills.
Please click on "details" to find more information on any accessory you are interested in. Accessories are optional upgrades to your scooter. Everything that you see in the pictures with the scooters is already installed and included with it.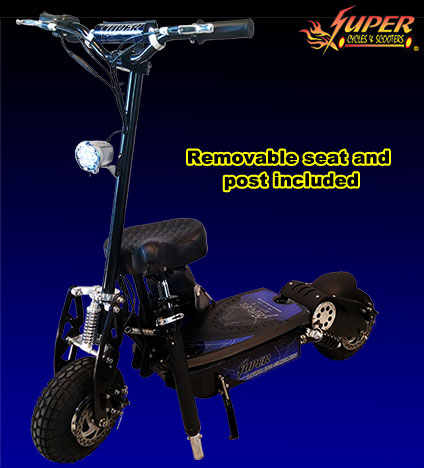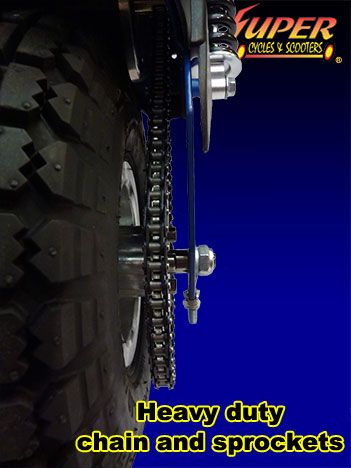 Scooter Specs and Details
Recommend Age: See Liability Policy
MOTOR: 1300watt DC Brushless 48v 3500 rpm motor
SPEED: 22-28 mph (depends on rider's weight & terrain)
RANGE: 10-21 miles per charge; (range depends on rider's weight, speed they are driving, and terrain) Special note= Hills and Heavy Rider Weight will greatly reduce RANGE.
BATTERY: 48v 12ah LifePo4 Lithium1000 Charge Cycles (Most advance battery available.)
BATTERY CHARGE CYCLES: (up to) 1000 Charge Cycles when properly charged
BATTERY RECHARGE TIME: 6-8 Hours
CHARGE SYSTEM: 110v input 48v output Smart Charger 2-color LED status indicator (Charger is Included)
SUSPENSION: Adjustable innovative front mono shock and adjustable dual rear shocks
HEAD LIGHT: Low power but very bright LED Head Light
STORAGE: Large Removable Storage Bag (Included)
CONTROLLER: Smart Power 48volts
DRIVE: Heavy Duty Chain (twice as thick as competing scooters)
BRAKES: Disc / Caliper (Front & Rear)
WHEELS: Alum. Mag Rim
TIRES: 4.10 ax 350 ax 4 " CST All Terrain Tires
HANDLEBARS: Billet Stem – 20″ Race Bars
FOLDING: Yes-locking
DECK: ABS Resin – QR
FRAME: High-tensile Steel
NET WEIGHT in Box: 84lbs
NET WEIGHT out of Box: 70lbs
NET WEIGHT with batteries removed: 60lbs
MAX RIDER WEIGHT: 250lbs on flat ground with stock gearing. 350lbs on flat ground with hill kit installed. Reduce weight by 50% when hills are involved.
COLORS: Black, Blue and Silver (Must specify with your order.)
PACKING SIZE: 13″ W X 19″ H X 46″ L
Scooter Measurements:
42″ Tall when unfolded
17″ Tall when folded
46″ long and 12″ wide when folded or unfolded
Shortest Seat Height: 29″ Measured from the ground up.
Highest Seat Height: 35″ Measured from the ground up.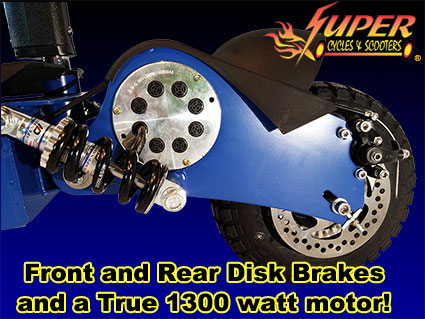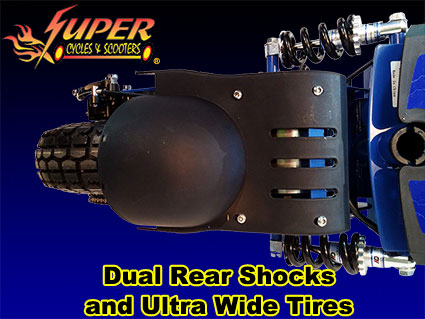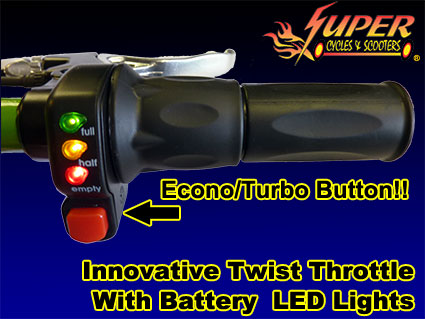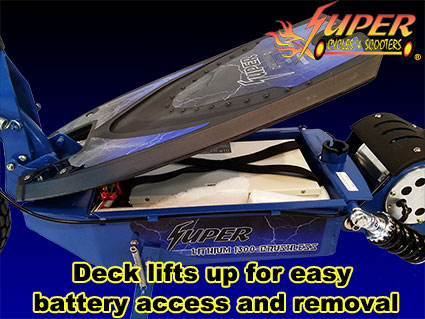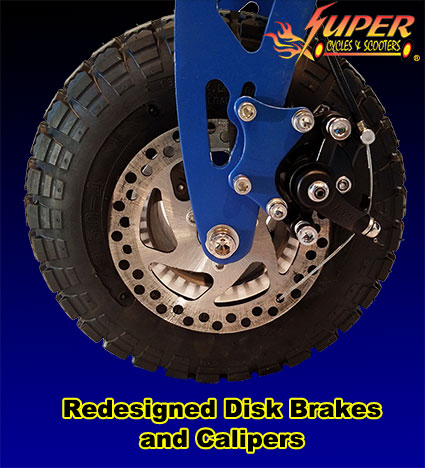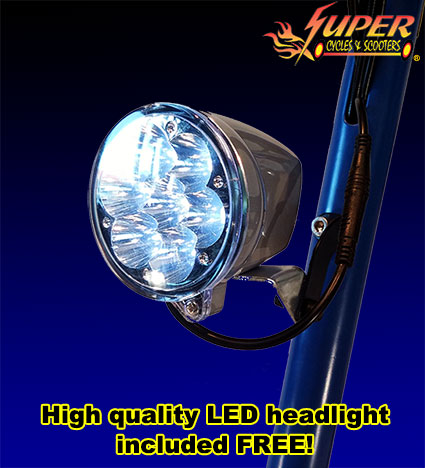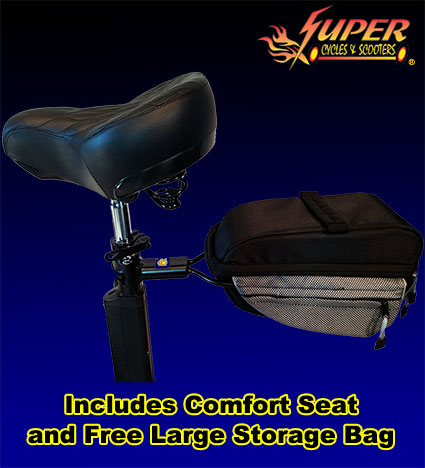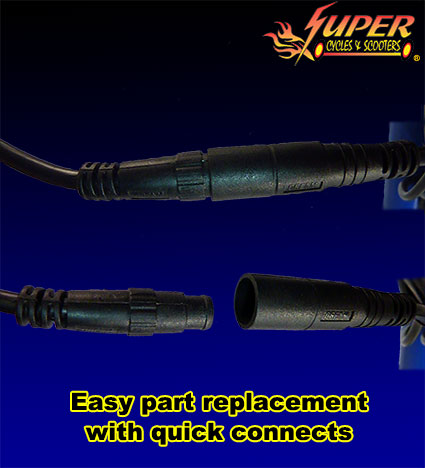 Shipping Details
We inspect and test every scooter / E- Bike and improve its packaging before it ships. E-Bikes / Scooters must go through this process before being shipped for quality assurance. Once an order has been placed it usually takes no longer than 1 or 2 businesses days to QC and ship your E-Bike / Scooter. However, depending on the volume of orders we receive the same day, your order may be delayed up to an additional five business days. You will receive a tracking number via: email once your order has been processed. This does not mean that your order has been shipped. Orders go through our quality control process first and then are picked up by FedEx.
Once your order has been picked up by FedEx, shipping time usually takes between 2-6 business days depending on what state you live in. East coast customers are usually 2-3 business days and West Coast is usually 4-6 business days. We only ship to a billing address. Orders that cannot go to the billing address will be canceled. We do not ship to PO boxes. Part orders are shipped to either FedEx or USPS.
Shipping is FREE with your purchase! However we only ship to the Continental 48 states free of charge. Alaska and Hawaii customers please call us for shipping details and charges. International orders are not accepted.
Important Safety Note: YOU MUST INSPECT YOUR SCOOTER/E-BIKE BEFORE EACH RIDE FOR SAFTEY. It is the purchaser's responsibility to do a complete safety check and adjust, tighten and look for any missing nut bolt or anything out of the ordinary before each and every ride. We also highly recommend full safety gear such as a helmet, gloves, elbow, and knee pads.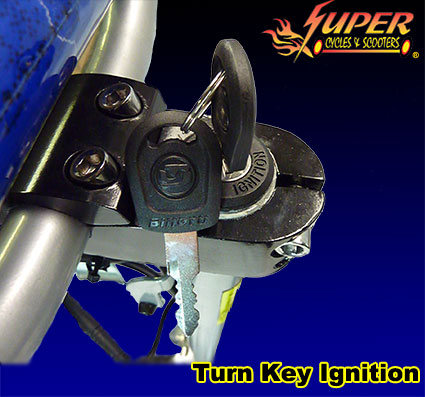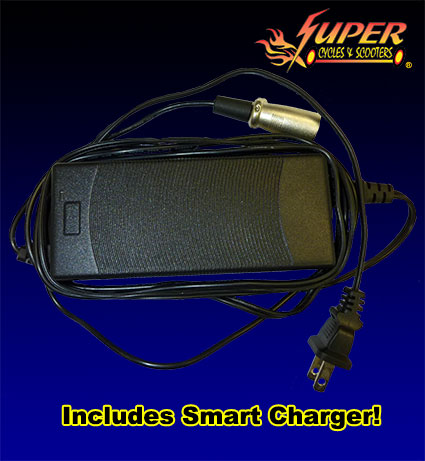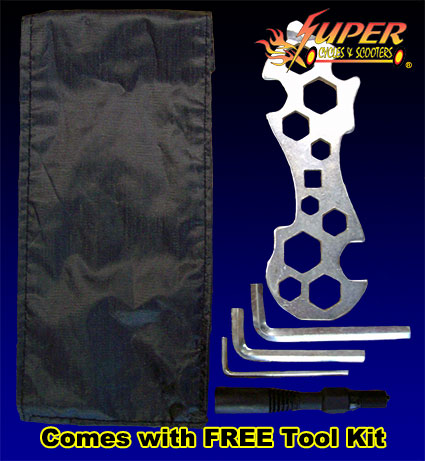 FOR ANY QUESTIONS PLEASE EMAIL US AT
supercycles@hotmail.com
OR CALL US AT 843-997-7902